WHY YEEPLY
We differentiate ourselves in technology and information at our disposal, to improve our internal processes and offer the best high-tech solutions at lowest cost.
What distinguishes us?
It's important to understand the main differences between working with Yeeply and working with a development company, agency or directly with an IT expert.
| | | EMPLOYEE | SOFTWARE COMPANY | AGENCY |
| --- | --- | --- | --- | --- |
| Quality/ satisfaction | 94% | 50% | 70% | 70% |
| Available teams | Immediately | 1-3 months | 2-4 weeks | 2-4 weeks |
| Amount of resources | Unlimited | Very limited | Limited | Limited |
| Final cost | Medium/ low | High | Medium/ low | High |
| Technical control of the project | High | Low | High | Medium |
| Relationship with the client | High | - | Low | High |
| Know-how technology | High | Medium/ low | High | Medium/ low |
| Multi-lingual support | Yes | - | No | No |
94
%
CUSTOMER
SATISFACTION
A different platform that truly adds value
We strive to bring order and dicipline into a technological sector that is often difficult to understand. We distinguish ourselves from other companies by promising different values, explained in the 8 following points:
High quality
Our experts are certified in various technologies and programming languages, and have worked on various projects and functions. We only assign projects to them that are matching their expertise and skills.
Technical control of the project
The projects are monitored by a Project Manager, who is responsible for managing the project on technical level and ensuring that deadlines are met.
Time before starting the project
It will only take a few days to determine the key points of the project in order to start developing it as soon as possible.
Relationship with the client
We believe in building a strong relationship with our clients and have meetings and negotiatons that are not just technical but also meant to achieve better results and work experiences.
Availability of resources
We never run out of resources. Many companies with multiple projects prefer to work with us than look for an alternative supplier.
Know-how technology
After completing over 400 projects, our experience and knowledge has extended over the years. This enables us to provide a broad vision at technical level and several business levels to a project.
Final cost
Thanks to our experience and optimisation of our processes, we can reduce our costs and ensure our clients they are investing their money well.
Multi-lingual support
Our sales assistants are able to speak a total of 6 different languages which makes it easier to manage international projects.
A greatly optimised professional network
One of Yeeply's keys to succes is its algorithm, optimising internal processes to make sure that developers and clients on the platform only receive projects that are truly matching their knowledge and experience. Thanks to this, Yeeply is able to select the best teams for its clients in the most efficient way while reducing time and costs.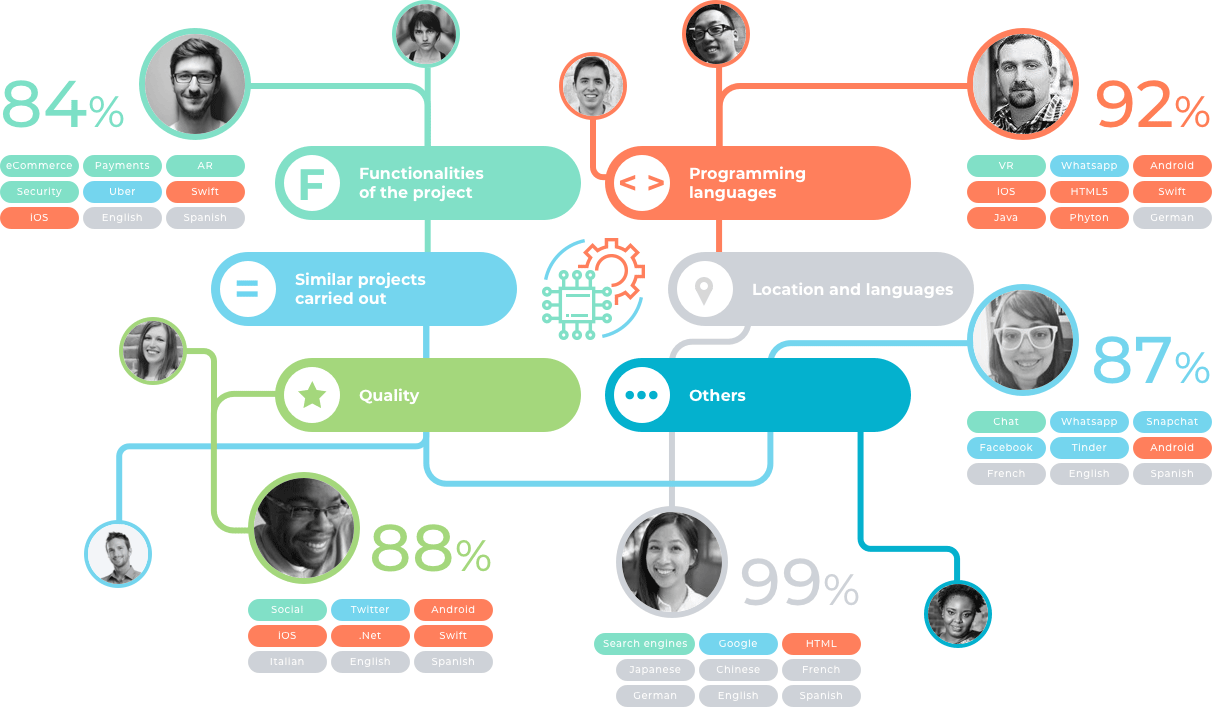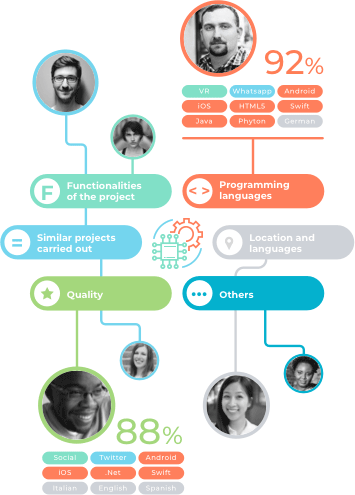 Are you ready for your first project?
START A PROJECT